AVAIL 26% DISCOUNT ON ANY ORDER. INTERNATIONAL BUYERS OR BULK BUYERS CAN WRITE TO US ON ETHNICSLAND@GMAIL.COM. HAPPY SHOPPING.
Frequently asked questions
Insurance Policy
---
Policy The Cincinnati Anxiety Center works as an out-of-network facility for all insurance plans. This means you will pay directly (fee-for-service) for all services rendered, but we provide what is called a "Superbill" that gives you all the information needed to submit any claims. You can also use reimbursify.com to make submitting claims a breeze. Any reimbursement for which you are eligible for will be sent directly to the policyholder. Although we will make our best effort to help you obtain reimbursement, we cannot guarantee payment. Many of our patients pay for therapy services using their Health Savings Account card. Rationale Our approach allows us to make optimal treatment decisions regarding length and type of therapy without the generic constraints often imposed by insurance companies. Current research suggests anxiety treatments—particularly for moderate to severe/extreme symptoms—may be more beneficial when sessions are longer in length (e.g., 90-120 minutes) and massed (e.g., daily or several times a week) rather than when they are shorter or spaced less frequently (e.g., weekly). We are committed to providing your child with the best treatment available. Although our fees may require some upfront costs/investment, we are confident that our method of cost-effective, results-oriented therapy will result in shorter treatment cycles and lower out-of-pocket costs for you.
---
Treatment Cost
---
Given CAC's treatment protocols are evidenced-based, short term, and results driven, the total cost of treatment is often a fraction of what it might be in other settings. We ensure that treatment is not extended longer than required, and our comprehensive assessment procedures shorten the length of therapy so that patients improve more quickly. The duration of individual sessions is scheduled in advance in accordance with each patient's treatment plan – there are no surprise fees or charges. Rates vary by clinician level of training and experience. It is important to gain a complete understanding of your financial and medical circumstances before determining service rate and clinician. Our commitment is to put forward our best effort to never deny services. In turn we ask prospectice clients to do their part in committing to a reasonable income-based rate so that all can benefit irrespectic of their socio-economic situation. Also consider that if you have out-of-network benefits, your reimbursement may cover a significant portion of total cost. For more information on affordability measures please see the Increasing Affordability section below CBT/ABA Flex Service Rates *typical lowest qualifying rate to full rate for 45 minutes session Initial Evaluation: $200 - $300
Clinician Service Rate: $100 - $160
Extern Service Rate: $60 - $100 Medication Flex Service Rate *typical lowest qualifying rate to full rate for 20 minute medication consult
Clinician Service Rate: $90 - $135 Customizeable Assessment Packages *prices can be further adjusted based on tests and clinical time Neuropsychological Assessment: $750 - $1500 Comprehensive Autism Evaluation: $600 - $1200 Attention-Deficit Hyperactivity Disorder Evaluation: $500 - $1000
---
Increasing Affordability
---
We understand that affording mental health services can be a daunting task for many families. Our team is committed to reducing barriers to effective treatment and are continually investigating ways to increase access while maintaining the viability of our business and treatment model. Currently we have three options for increasing treatment affordability. Flex Pricing - At CAC we offer flexible service pricing based on financial need and clinical severity (total expected expenditure). If you wish to apply for the flex service rate, we request that families provide documentation of your total family income, the number of legal dependents that you are financially responsible for, and claim on your taxes, and current out-of-pocket monthly mental health expenses. After reviewing these documents, if a family qualifies, we will provide a revised fee for you to review before deciding whether to proceed with services Doctoral Practicum Trainees - We collaborate with the University of Cincinnati's School Psychology doctoral program as an externship training site. Student's who work with us will have already earned their masters degrees and demonstrated the compentency to function as a clinician while under the close supervision of our Director. Participating as a training site allows for us to provide services at a discounted rate under circumstances where those services are appropriate. Community Partners - We are in the process of developing partnerships with local churches and businesses who are committed to assist the funding of mental health services in the community.
---
Advance Care Medical Financing
---
We want to do our very best to connect our patients to the resources they need in order to access treatment. As an additional layer of support we have partnered with Advance Care to provide financing options that can be applied to all of our behavioral health services if needed. ​ These programs provide affordable monthly payments with flexible terms. Advance Care combines interest-free financing with the flexibility you want. Advance Care compiles all of the best credit cards offers on the web into an easily accessible database. This benefits you by not having to go on the endless search for the right credit card. When you apply for one of the offers we have on this site, you are actually signing up directly with the bank! What this means for you is that the approval process is very short and you can receive your card quickly. Why Choose Advance Care? ​​1. The process is simple and offers quick decisions. 2. Co-signers may be ​used to increase the chances of approval. ​​3. Schedule your medical procedure as soon as you are approved.​ 4. 6 or ​14 months interest-free financing and competitive interest rates. ​​5. Maximum flexibility 6. No prepayment penalties ​7. No ​punitive late fees 8. ​​Unmatched customer service ​ Please note that when you apply and are approved, it will take up to 5-7 business days for the card to come in. Transactions cannot be made until the card is in your possession. ​ If you would like to apply for an Advance Care credit card or have any questions, please click below. Apply Here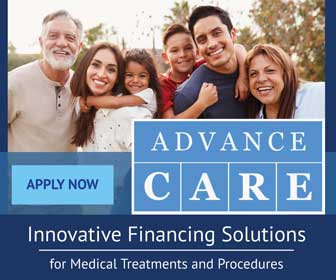 ---
---